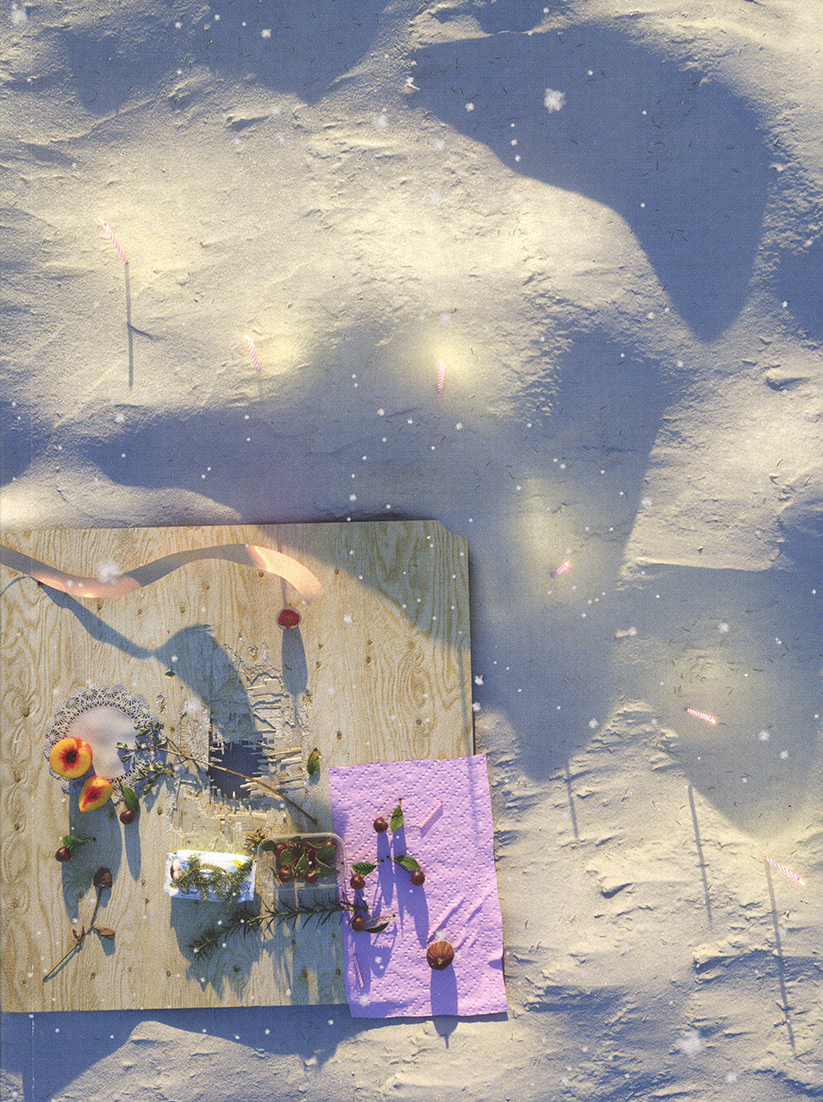 BRICKS FROM THE KILN #6:
Edited by Matthew Stuart & Andrew Walsh‐Lister
170 × 224.764mm, 164pp. + bookmark inserts
Edition of 800, ISBN 978-0-9956835-6-3
March 2023, London, Brighton, St Leonards-on-Sea
BFTK#6 (£12 + shipping)
This instalment of Bricks from the Kiln doubles as issue #6 of the journal and as an exhibition catalogue for the thematic show 'BFTK#6: Tentative — Incomplete — Inconsistent: A Catalogue of the Disappeared, Destroyed, Lost or Otherwise Inaccessible'. Presenting objects, artworks, artefacts, models, events and animals that no-longer — or never did — exist in physical form, the exhibition explores themes of death, destruction and reincarnation, examining persisting interests in notions of ephemerality and permanence, memory and record, preservation and erasure, creation and reconstruction. How do we remember and memorialise? How is space given to the unrecorded? How do we experience the out of reach, concealed, unseen, undiscovered? How can the dematerialised be materialised again, through the mediation of writing, image and sound?
THE ALMOST HORSE
Helen Marten
(inside front / back cover)
'STILL IN ALL HEARTS, IN ALL BELLIES, IN ALL TOES':
A BELATED REVIEW OF FESTIVAL DE FORT BOYARD
Matthew Stuart & Andrew Walsh-Lister
(pp.6–8)
EDDYSTONE
Rachael Allen
(pp.11–18)
TO MAKE THE STONE STONY
Emily LaBarge
(pp.21–26)
WHEREFORE AM I NOW?
Lucy Mercer
(pp.29–40)
WESTON:
THE TOWN THAT WAS, AND THEN WASN'T
Crystal Bennes
(pp.43–52)
NOTES TO ACCOMPANY VIOLENT INNOCENCE (2019)
Will Harris
(pp.55–64)
GHOST, POCKETS, TRACES, NECESSARY CLOUDS
Matthew Stuart
(pp.66–69)
CONNECTIVITY OF TOUCHING
Ali Na & Mindy Seu in conversation
(pp.71–76)
PEARL
Rose Higham-Stainton
(pp.79–84)
NOTES FROM NEW MEXICO
Jennifer Hodgson
(pp.87–98)
THE MOOG OF AHMEDABAD
Paul Purgas
(pp.101–108)
IN WHICH DECIBELLA ESCAPES AUDITION
Sarah Hayden
(pp.111–122) (listen here)
D.C.B.: A PARTIAL RETROSPECTIVE
Juliet Jacques
(pp.125–136)
PINBALL REMAINS: ON THE PINBALL ISSUE OF THE SITUATIONIST TIMES
Ellef Prestsæter
(pp.139–150)
TOMB III – CADMIUM (2021)
Gilbert Again
(pp.152–154)
NON-DESCRIPT ANIMAL
David Hering
(pp.157–161)
Cover & Bookmark artwork by Helen Marten
---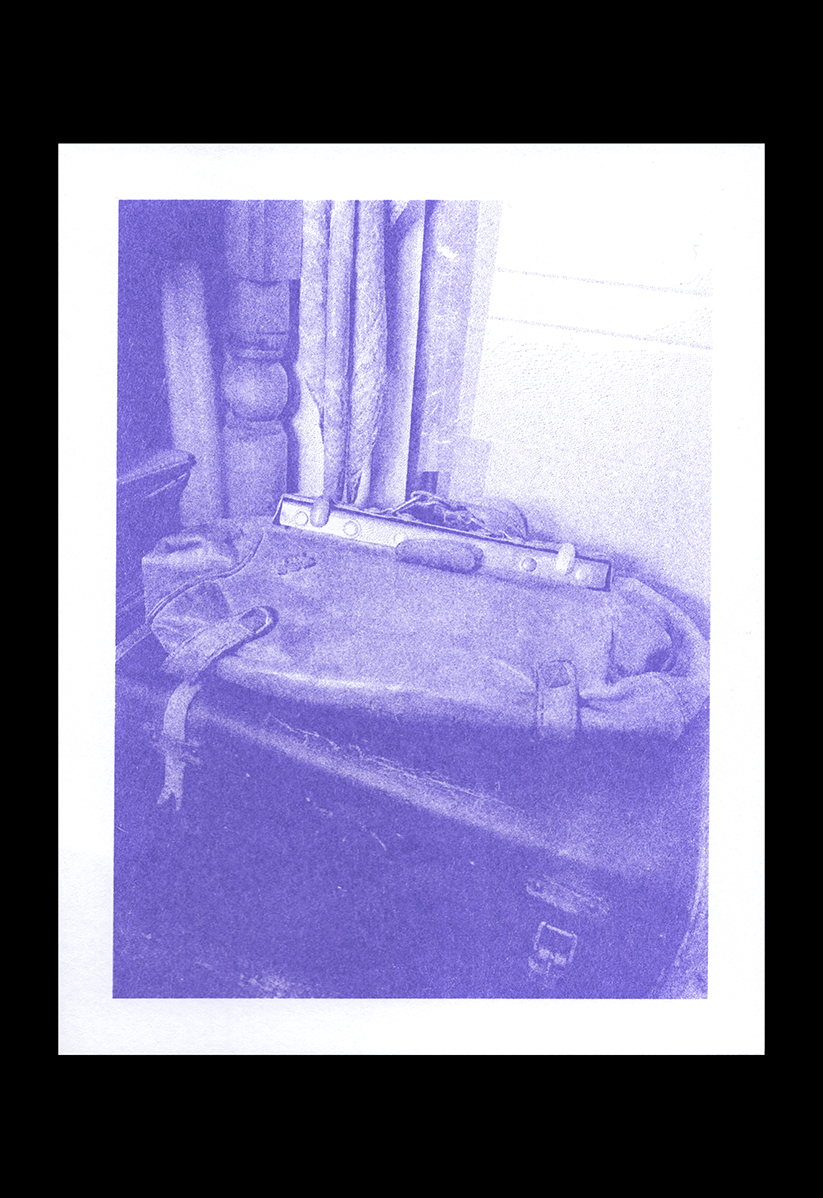 IN THE BAG by Paul Buck
148 × 210mm, 28pp. + insert

Edition of 150, published by BFTK

ISBN 978-0-9956835-5-6

November 2022, London

IN THE BAG (£7.50 + shipping)
Published as a precursor to BFTK#6, 'In the Bag' by Paul Buck is a pamphlet / essay / missive about rarities, the out of print, one-offs and those 'oddities, oddments and ornaments' that collectors and magpies seek, hoard and lose. Printed and numbered in an edition of 150, each copy comes with a violet insert featuring a photograph of a Gladstone bag by Valentine Day.
---
ANYTHING BUT BEGIN
Louis Lüthi
(pp.5–18)
SNOW AND BLOOD: A DIPTYCH PICTURESQUE
Helen Marten
(pp.27–37)
THE RECIPE FOR BLUE WAS RED / SPATTERING,
SHADOW TEXTS,THE APPLICATION OF
INTERNAL CONTRADICTION
Rebecca May Johnson
(pp.38–45)
NETWORKS ARE NOT DIAGRAMS:
AETHERIC THEORIES AND SOCIAL PHYSICS
Johanna Drucker
(pp.46–59)
I LOSE MY HEAD
Daisy Lafarge
(pp.60–67)
THE BIG ROAR
Holly Pester
(pp.69–76)
OFF THE PAGE: LOUD COWS A TALK AND A POEM
ABOUT READING ALOUD
Ursula K. Le Guin
(pp.83–90)
SIGNS, SOUNDS, METALS, FIRES,
OR AN ECONOMY OF HER READER
Quinn Latimer
(pp.91–109)
SKETCHES FROM A POLITE HELL
Stefan Themerson
(pp.111–113)
TRANSLITERATIVE TEASE
Slavs and Tatars
(pp.115–133)
A SÉANCE: A CALL AND RESPONSE
Ashanti Harris
(pp.134–142)
XAXALPA
Catalina Barroso-Luque
(pp.149–162)
LEFT TO HIS OWN DEVICES:
RICHARD HAMILTON, INTROSPECTRE
Kevin Lotery
(pp.163–180)
AJAR AJAR A JAR: [OPENING THE CONCRETE]
Bronac Ferran w. Greg Thomas
(pp.163–180)
BARONESS ELSA'S EM DASHES
Astrid Seme w. Alex Balgiu
(pp.1–4, 19–26, 77–82, 143–148, 205–208)
---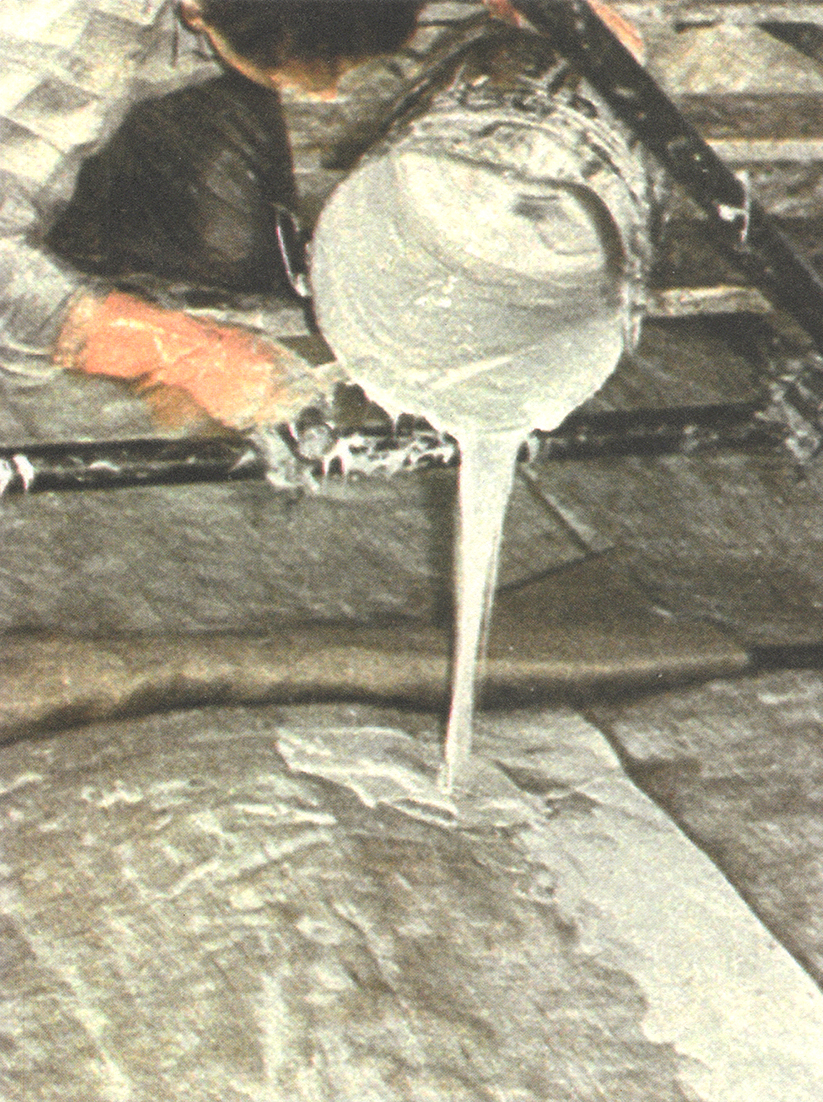 BRICKS FROM THE KILN #4
Edited by Natalie Ferris, Bryony Quinn, Matthew Stuart
& Andrew Walsh‐Lister
Published as event / publication
170 × 224.764mm, 288pp. + insert
Edition of 1000, ISBN 978‐0‐9956835‐2‐5
December 2020, London, Chicago & Edinburgh
BFTK#4 (£14 + shipping)
GREENING
Helen Marten
(front / back flaps)
JOY & HAPPINESS, FIDELITY
& INTIMACY IN TRANSLATION
Sophie Collins
(pp.4–13)
PLANETARY TRANSLATION
Don Mee Choi
(pp.15–19)
TRANSLATION AND A LIPOGRAM:
OR, ON FORMS OF AGAIN-WRITING
AND NO- (OR NOT THAT-) WRITING
Kate Briggs
(pp.23–33)
UNHOMING (1 of 4):
FOLLOWING HÖLDERLIN'S 'HEIMAT'
Phil Baber
(pp.35–47)
SNOW WHITE AND THE WHITE
OF THE HUMAN EYEBALLS
Joyce Dixon
(pp.51–62)
ALTAMIRALTAMIRALTAMIRA
Florian Roithmayr
(pp.65–116)
LEVEL UP, LEVEL DOWN
Jen Calleja
(pp.119–124)
TRANS.MISSION [A.DIALOGUE]:
A JAVASCRIPT FOR THREE VOICES
J.R. Carpenter
(pp.127–134)
THE MECHANISATION OF ART
Edgar Wind
(glosses / annotations / insertions by
Natalie Ferris & Bryony Quinn)
(pp.137–144)
UNHOMING (2 of 4)
Phil Baber
(p.147)
COMMISSION FOR A NOIR MOVIE
B IN THE BAY OF BISCAY
Rebecca Collins
(pp.151–157)
UNHOMING (3 of 4)
Phil Baber
(pp.150–162)
EVERY CONTACT LEAVES A TRACE;
TRANSCRIBING OSTEON
Naomi Pearce
(pp.165–170)
HOW DOES A WORK END?
Karen Di Franco
(pp.173–193)
METONYMY Op.1 & Op.2
James Bulley
(pp.197–201)
AFRIKAN ALPHABETS EXTENDED
Saki Mafundikwa
(pp.204–207)
SUSAN HILLER: 1983
Natalie Ferris
(pp.209–217)
EVERY TELLING HAS A TALING /
EVERY STORY HAS AN ENDING
Matthew Stuart
(pp.220–233)
GRAPHIC PROPRIOCEPTION
James Langdon
(pp.235–254)
UNHOMING (4 of 4)
Phil Baber
(pp.257–263)
TUNNELLING AND AGGREGATING
FOR DESIGN RESEARCH
Bryony Quinn (text) &
Peter Nencini (images)
(pp.265–272)
LET IT PERCOLATE:
A MANIFESTO FOR READING
Sophie Seita
(pp.275–280)
VIA: 48 DANTE VARIATIONS
(2000–2020) — A NEW INFERNO
Caroline Bergvall
(pp.284–287 & pp.1, 2, 3, 14, 20, 21, 22, 34, 48, 49, 50, 63, 64, 117, 118, 125, 126, 135, 136, 145, 146, 148, 149, 150, 158, 163, 164, 171, 172, 194, 195, 196, 202, 203, 208, 218, 219, 232, 233, 234, 255, 256, 264, 274, 281, 282, 283, 288)
MARIST: A NOTE ON THE TYPE
Seb McLauchlan
(insert)
TO SEE AND KNOW MORE
Maria Fusco
(insert & pp.6, 14, 32, 40, 50, 60, 80, 92, 106, 120, 134, 146, 156, 162, 174, 190, 196, 210, 216, 226, 232, 246, 268, 276)
---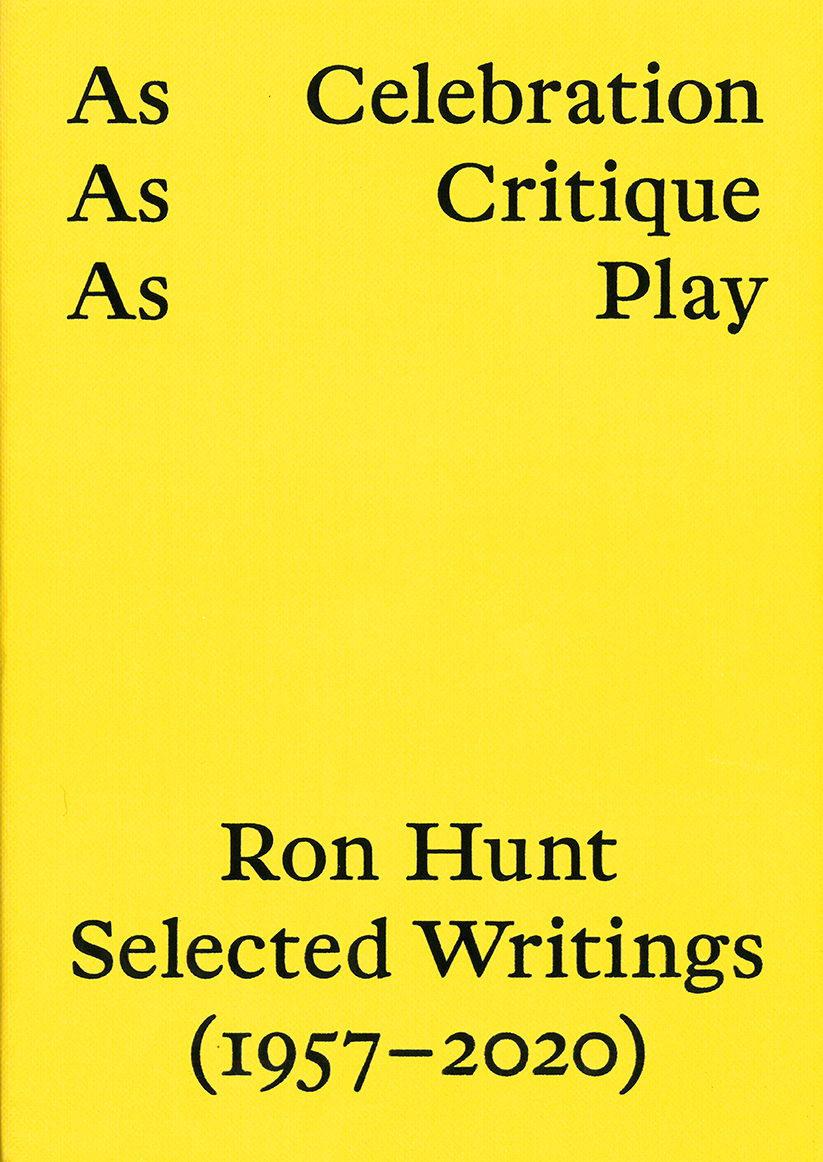 AS CELEBRATION, AS CRITIQUE, AS PLAY:
RON HUNT, SELECTED WRITINGS (1957–2020)
Edited by Matthew Stuart & Andrew Walsh-Lister
148 × 210mm, 224pp. + dust jacket + insert
Edition of 400, ISBN 978-0-9956835-3-2
Published by BFTK, March 2020, London
ACACAP (£26 + shipping)
The first standalone title on the BFTK imprint, 'As Celebration, As Critique, As Play' pulls together selected writings by Ron Hunt across his varied career as a writer, librarian, curator, critic and self described 'lapsed anarchist'. Structured as a 'biographic bibliography' supplemented with annotations and contextual notes, 'As Celebration, As Critique, As Play' combines commissioned writing and previously unpublished texts that range from exhibition catalogue essays and détourned Q&As, to A–Z indexes and cherry-picked readers. Writings reproduced in full include:
Francis Picabia: Introduction (1964)
Yves Klein: A Mythopoeic of the Plurisignative (1967)
The Arts in Our Time (1968)
We Are Revealing New Pages of Art in Anarchy's New Dawns (1968)
Interview with Brigitte Bardot (1969) (preview)
Poetry must be made by all! / Transform the world! (1969)
An Interview with Pontus Hultén, Stockholm 1981 (1971)
For Factography! (1976)
Andreas Gursky (1999)
Kalf: A Late Perspective (2000)
Dreams of / Fears of …… Flying (2009)
Fourier / Breton / Cherries (2017)
Hélène Cixous or Waiting for Tears (2018)
Some Books of Barbara Bloom (2019)
A Very Brief Dictionary in the Vicinity of Situationism (2019)
'Recovery' / Is Recovery Possible (2020)
with photographs by Tom McCaughan
typeset in Janson Max Neue by Dinamo & Sam de Groot
---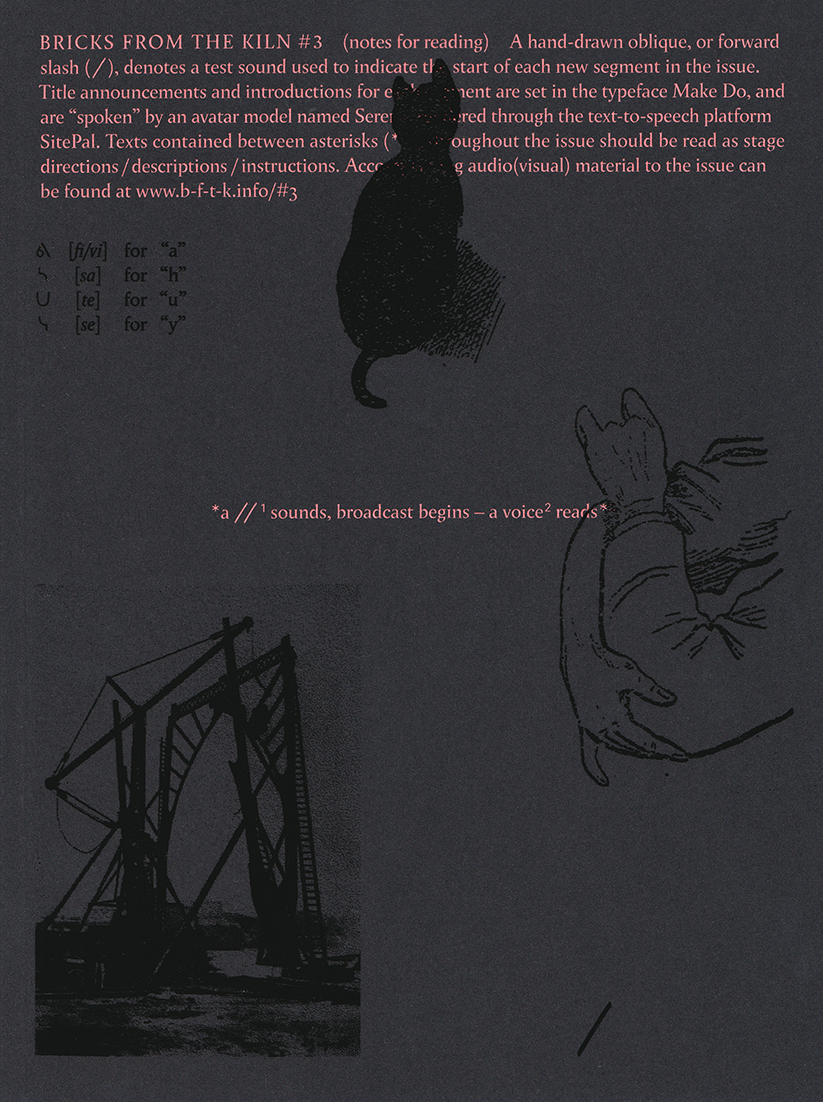 BRICKS FROM THE KILN #3
Edited by Andrew Lister & Matthew Stuart
170 × 224.764mm, 120pp. + pvc dust jacket + insert
Published as text, image and sound
Edition of 700, ISBN 978‐0‐9956835‐1‐8
TTC‐120, October 2018, London & New York
BFTK#3 (£12 + shipping)
BFTK#3 supporting audio here
Intro
OSKA (movement 3)
James Bulley (p.2)
One
A TYPOGRAPHIC CHRONICLE
OF STOPS AND STARTS
Bryony Quinn (pp.3–12)
Two
OKAY, I HAVE SOME QUESTIONS
THAT I'D LIKE TO ASK
Matthew Stuart talks with Nayia Yiakoumaki
(pp.13–28)
Three
HET LIEDEKEN
Astrid Seme (pp.29–32)
Four
SOFT ROCK FOR HARD TIMES
Mark Owens (pp.33–44)
Five
CRAFTMANSHIP and AFTER CRAFTMANSHIP
Virginia Woolf with Paul Bailey and
Sophie Demay (pp.45–60)
Six
DISAPPEARING INSIDE A
RED GRANITE-CLAD CORRELATE
Till Wittwer (pp.61–70)
Seven
CAMPANOLOGIA BOLOGNA
Emma Smith (pp.71–74 & insert)
Eight
BRUCE MCLEAN INTERVIEWS HIMSELF
Bruce McLean and Bruce McLean (pp.75–86)
Nine
AFTEREADING
Alexandru Balgiu (pp.87–90)
Ten
'A MIXTURE OF SEMANTICS, POETRY AND
MARKETING' APPROACHES TO THE TYPEFACE
DESIGN OF INUKTITUT SYLLABICS
David Bennewith (pp.91–114)
Eleven
TELL ME, WHAT IS?
Nontsikelelo Mutiti and Tinashe Mushkavanhu
(pp.115–118)
Outro
OSKA (movement 3 reprise)
James Bulley (p.119)
---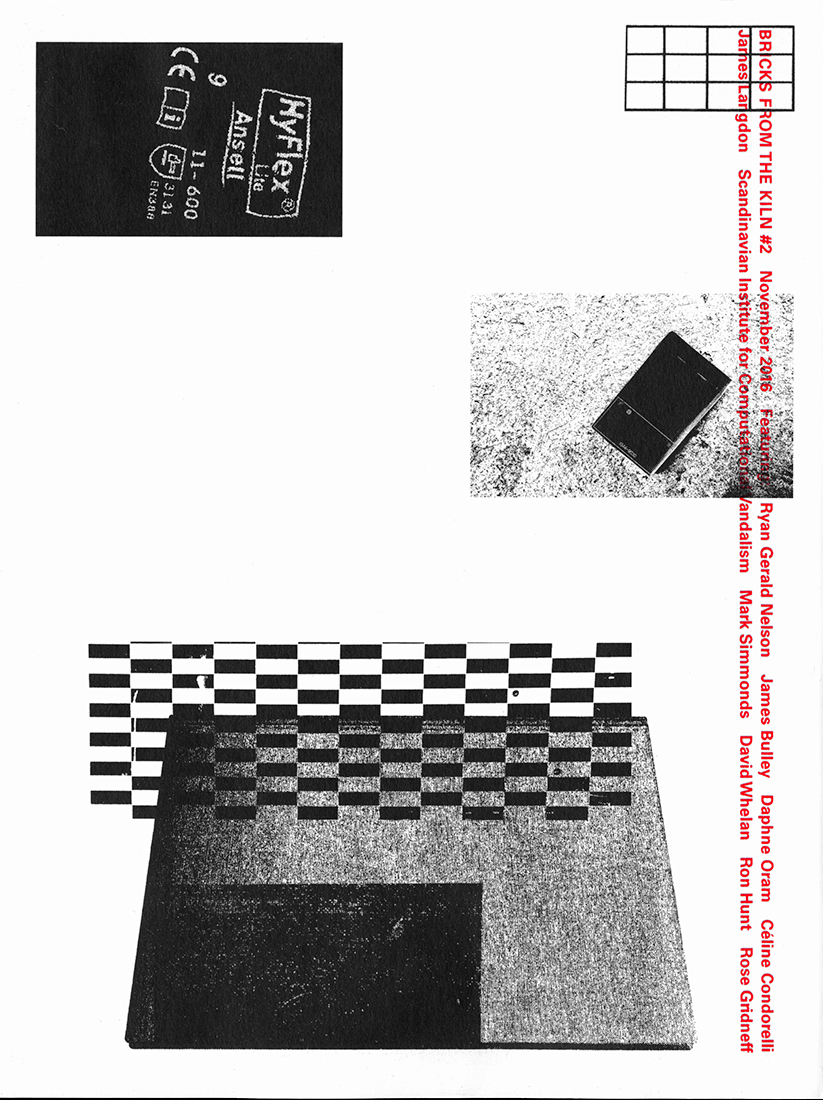 BRICKS FROM THE KILN #2
Edited by Andrew Lister & Matthew Stuart
170 × 224.764mm, 84pp. + pvc dust jacket + insert
Edition of 700 (675 bound / 25 unbound)
ISBN 978‐0‐9956835‐0‐1
TTC‐106, November 2016, London
BFTK#2 (£12 + shipping)
PERIPHERIES
Ryan Gerald Nelson (signature-wraps A & G)
THE LANGUAGE OF 'PERIPHERIES'
Ryan Gerald Nelson (pp.3–4)
James Bulley (pp.5–22)
PHOTOGRAPHS OF TRINIDAD AND TOBAGO (1964)
Daphne Oram (signature-wrap B)
IN THE BACKGROUND
Céline Condorelli & James Langdon (pp.27–34)
ALGORITHMIC ARABESQUE
Scandinavian Institute for Computational Vandalism (signature-wrap D)
VANDALIST ICONOPHILIA
Scandinavian Institute for Computational Vandalism
(pp.39–46)
MORE OR LESS
(Compiled by) Mark Simmonds (pp.51–58)
EXIGENCIES
Flights and Fissures / David Whelan (signature-wrap F)
NEURO-DEBTS
David Whelan (pp.63–65)
MALEVICH'S COFFIN AND THE MONUMENT QUESTION
Ron Hunt (pp.66–79)
AFTER NIJHOF & LEE
Rose Gridneff (pp.80–81)
---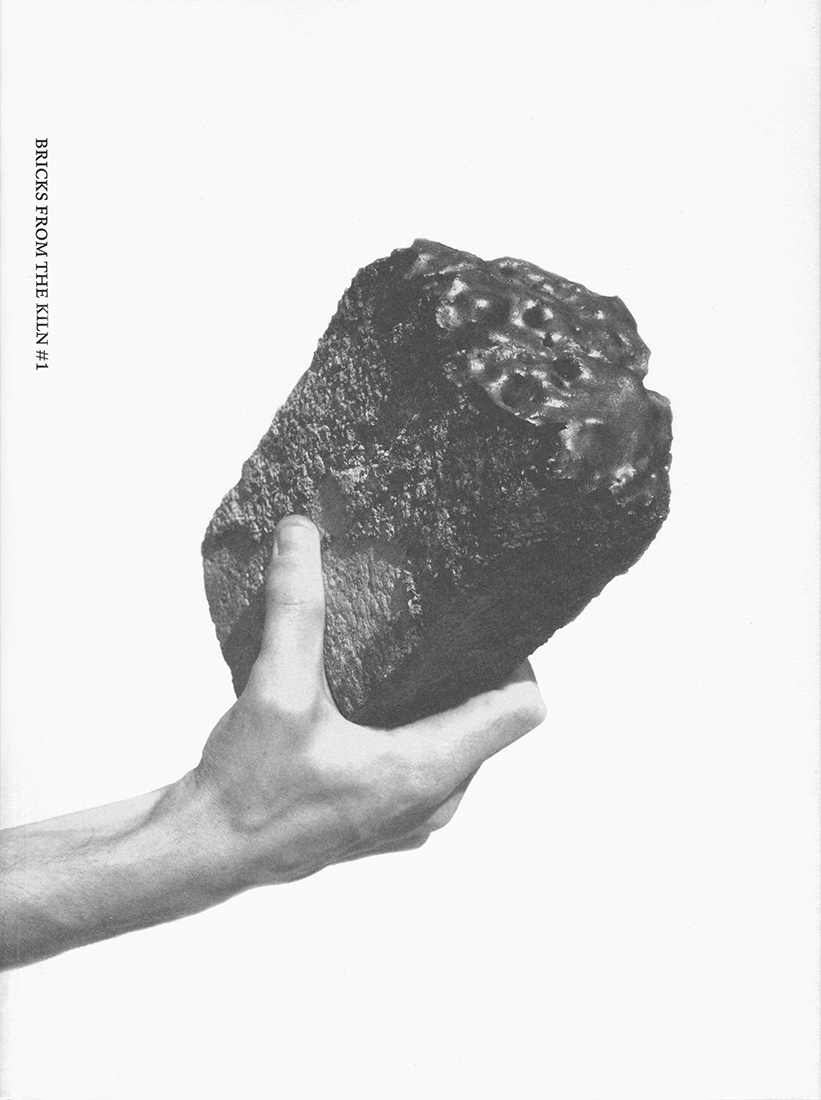 BRICKS FROM THE KILN #1
Edited by Andrew Lister & Matthew Stuart
170 × 224.764mm, 138pp. + 2 inserts
Edition of 700, ISSN 2397‐0227
TTC‐090, December 2015, London
BFTK#1 (£12 + shipping)
*SOLD OUT*
FRAGMENTS OF A CONVERSATION WITH RON HUNT
Andrew Lister, Matthew Stuart & Ron Hunt (pp.1–20)
RALPH RUMNEY: THE SHAPE OF HEADS TO COME
Natalie Ferris (pp.21–34)
THE LEANING TOWER OF VENICE
Ralph Rumney (pp.35–38)
OBSERVATIONS FROM A FIXED POSITION
James Langdon (pp.39–44 & insert #1) (read here)
VAPEGAZE
Mark Owens (pp.45–55)
WORDS FALLING FROM THE SKY LIKE BLOSSOM
Jamie Sutcliffe (pp.56–64)
WESTERING
Iain Sinclair (pp.65–88)
PICKING UP, TURNING OVER, PUTTING WITH
Traven T. Croves (pp.90–107)
"STAY HUNGRY. STAY FOOLISH", SAID THE ACADEMY AND FED US TO THE LIONS. OR: STARVING WITH A LOT OF LOVE IN YOUR STOMACH
Parallel School (pp.108–117)
MUSIQUES D'AUTREFOIS, ÉCHOS D'AUJOURD'HUI: A STUDY ROOM ON THE WORKS OF PIERRE FAUCHEUX
Catherine Guiral (pp.118–136)
GRAND COUPES
Max Harvey, He Pianpian & Li You (insert #2)
Andrew Lister & Matthew Stuart (inside cover folds)
---
EDITIONS
BFTK editions, prints, etc. available here (updated intermittently)
---
Distribution:
Antenne Books (Europe)
Stockists:
Actual Source, Provo
After 8 Books, Paris
Ahorn Books, Berlin
Appendix, Columbus
Artbook MoMA PS1, New York
Artwords Bookshop, London
Basheer Graphic Books, Singapore
BOOKS Peckham, London
Burning House Books, Glasgow
Cafe OTO, London
Camden Arts Centre, London
Do You Read Me?, Berlin
Draw Down Books, Connecticut
Espace Projet, Montreal
Family, Los Angeles
Frab's Magazines & More, Forlì
Funk Magazine, Köln
Good Press, Glasgow
Graham Foundation, Chicago
The Hastings Bookshop, Hastings
Hopscotch Reading Room, Berlin
ICA Bookshop, London
Inga, Chicago
Kosmos, Zurich
Librarie Yvon Lambert, Paris
London Centre for Book Arts, London
Lugemik, Tallinn
Magalleria, Bath
MagCulture, London
Mast Books, New York
McNally Jackson, New York
Papercut, Stockholm
Peste, Manchester
PrintRoom, Rotterdam
Rare Mags, Stockport
Reading Room, Milan
rile*, Brussels
Room 312, Vancouver
San Serriffe, Amsterdam
Skylight Books, Los Angeles
Studio Nock, Gothenburg
Tambourine, Madrid
Tenderbooks, London
Topics, Berlin
Ulises, Philadelphia
Unitom, Manchester
Village, Leeds & Manchester
XXXI (Thirty One), New York
Libraries / Collections:
Art Book in China, Bejing
British Library, London
Graham Foundation, Chicago
Joan Flasch Artists' Book Collection, SAIC, Chicago
Kingston School of Art Library, London
Little Magazines Collection, UCL, London
Manchester Metropolitan University Library, Manchester
Marquand Art Library, Princeton University, Princeton
Midway Contemporary Art, Minneapolis
National Art Library, V&A, London
National Poetry Library, London
Olin Library, Wesleyan University, Middletown
Robert B. Haas Library, Yale University, New Haven
Ron Burnett Library, Emily Carr University, Vancouver
Staatliche Hochschule für Gestaltung Bibliothek, Karlsruhe
Tate Library, London
University for the Creative Arts Library, Epsom
Van Pelt Library, University of Pennsylvania, Philadelphia
Winchester School of Art Library, Winchester