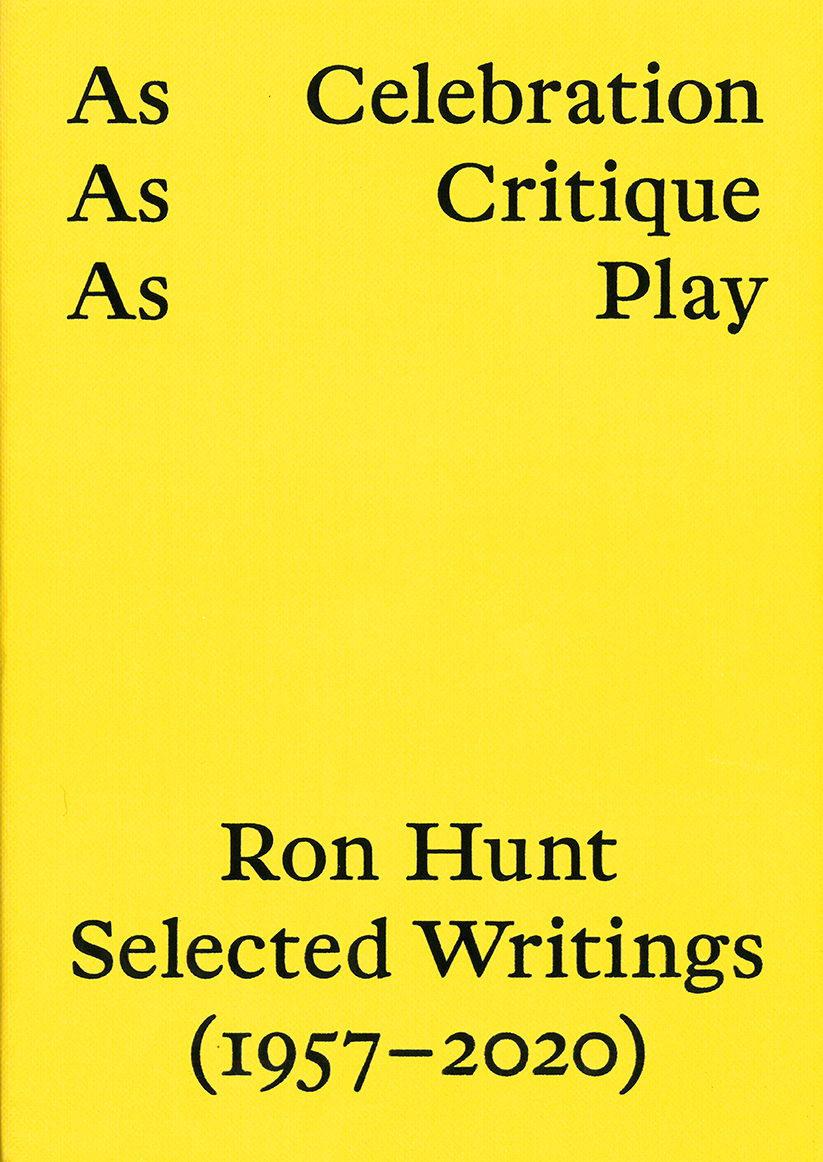 AS CELEBRATION, AS CRITIQUE, AS PLAY:
RON HUNT, SELECTED WRITINGS (1957–2020)
Edited by Matthew Stuart & Andrew Walsh-Lister
148 × 210mm, 224pp. + dust jacket + insert
Edition of 400, ISBN 978-0-9956835-3-2
Published by BFTK, March 2020, London
ACACAP (£26 + shipping)
The first standalone title on the BFTK imprint, 'As Celebration, As Critique, As Play' pulls together selected writings by Ron Hunt across his varied career as a writer, librarian, curator, critic and self described 'lapsed anarchist'. Structured as a 'biographic bibliography' supplemented with annotations and contextual notes, 'As Celebration, As Critique, As Play' combines commissioned writing and previously unpublished texts that range from exhibition catalogue essays and détourned Q&As, to A–Z indexes and cherry-picked readers. Writings reproduced in full include:
Francis Picabia: Introduction (1964)
Yves Klein: A Mythopoeic of the Plurisignative (1967)
The Arts in Our Time (1968)
We Are Revealing New Pages of Art in Anarchy's New Dawns (1968)
Interview with Brigitte Bardot (1969) (preview)
Poetry must be made by all! / Transform the world! (1969)
An Interview with Pontus Hultén, Stockholm 1981 (1971)
For Factography! (1976)
Andreas Gursky (1999)
Kalf: A Late Perspective (2000)
Dreams of / Fears of …… Flying (2009)
Fourier / Breton / Cherries (2017)
Hélène Cixous or Waiting for Tears (2018)
Some Books of Barbara Bloom (2019)
A Very Brief Dictionary in the Vicinity of Situationism (2019)
'Recovery' / Is Recovery Possible (2020)
with photographs by Tom McCaughan
typeset in Janson Max Neue by Dinamo & Sam de Groot
---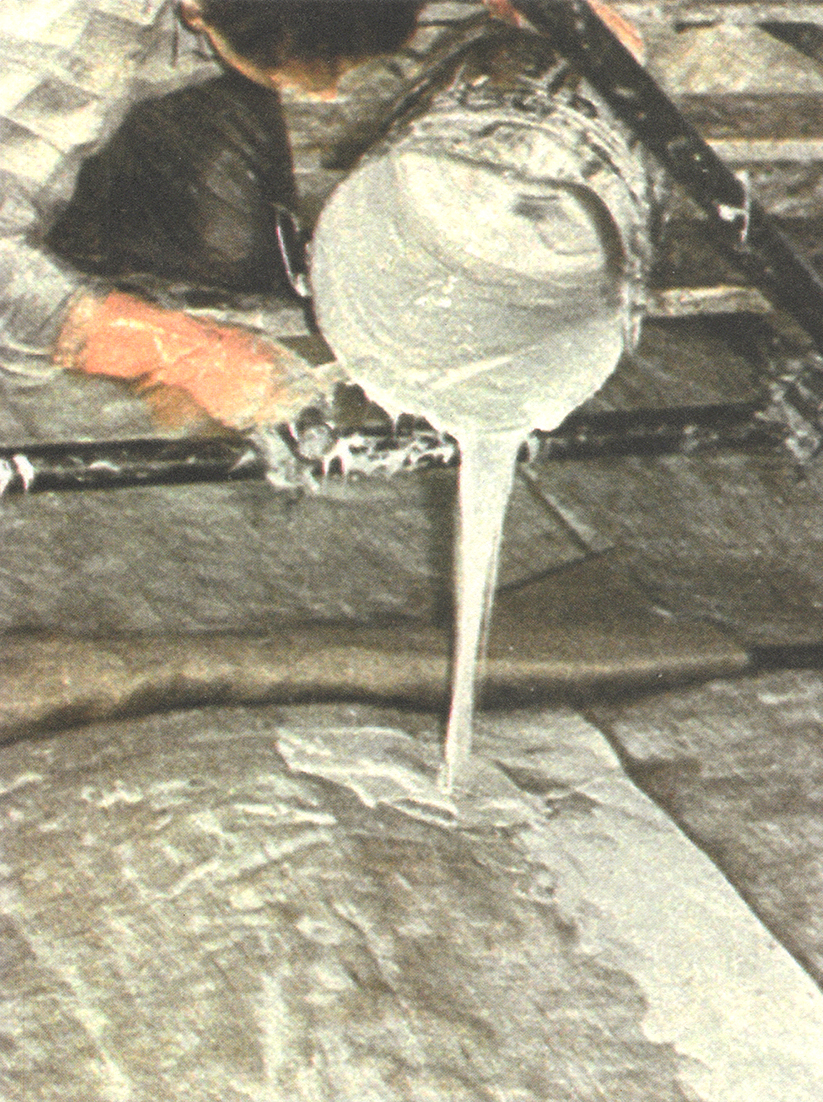 BRICKS FROM THE KILN #4 (Preorder)
Edited by Natalie Ferris, Bryony Quinn, Matthew Stuart
& Andrew Walsh‐Lister
Edition of 700, ISBN 978‐0‐9956835‐2‐5
BFTK#4 Preorder (£9 + shipping)
BFTK#4 is published as event / publication, existing initially as a series of presentations and live events taking place across 2019/20, before being transcribed and supplemented as a printed issue. BFTK#4 is due for release in early 2020, if you preorder a copy you will be listed / thanked in the issue and notified of future events and progress via email.
Event One → LCC, London, 5 June 2019:
FIDELITY AND INTIMACY
Sophie Collins
TRANS.MISSION [A.DIALOGUE]
J.R. Carpenter
ALTAMIRALTAMIRALTAMIRA
Florian Roithmayr
GRAPHIC PROPRIOCEPTION
James Langdon
CO-ORDINATES FOR A NOIR B-MOVIE:
EXTRACTS A, B, C
Rebecca Collins
HOW DOES A WORK END?
Karen Di Franco
METONYMY (movement 1, 2 & 3)
James Bulley
Event Two → Inga Books, Chicago, 14 November 2019:
(Text in Circulation)
THE MECHANISATION OF ART
Edgar Wind, Natalie Ferris & Bryony Quinn
Event Three → Burley Fisher Books, London,
20 December 2019:
(Text in Circulation)
WHILE TRANSLATING…
Sophie Collins
Event Four → Pig Rock Bothy, Scottish National Gallery of Modern Art, Edinburgh, 31 January 2020:
TO SEE AND KNOW MORE
Maria Fusco
SNOW WHITE AND THE WHITE OF
THE HUMAN EYEBALLS
Joyce Dixon
EXTRACT FROM 'MARTELLO STREET'
Naomi Pearce
Event Five → Pig Rock Bothy, Scottish National Gallery of Modern Art, Edinburgh, 31 January 2020:
(Text in Circulation)
'HEIMAT' BY FRIEDRICH HÖLDERLIN
TOWARDS A CLOSER READING
Phil Baber
Plus:
TRANSLATION AND THE LIPOGRAM
Kate Briggs
MULTI-STOREY: AN EXTRACT FROM A
WORK IN PROGRESS
Jen Calleja
typeset in Marist by Seb McLauchlan, developed and refined as the issue is assembled
---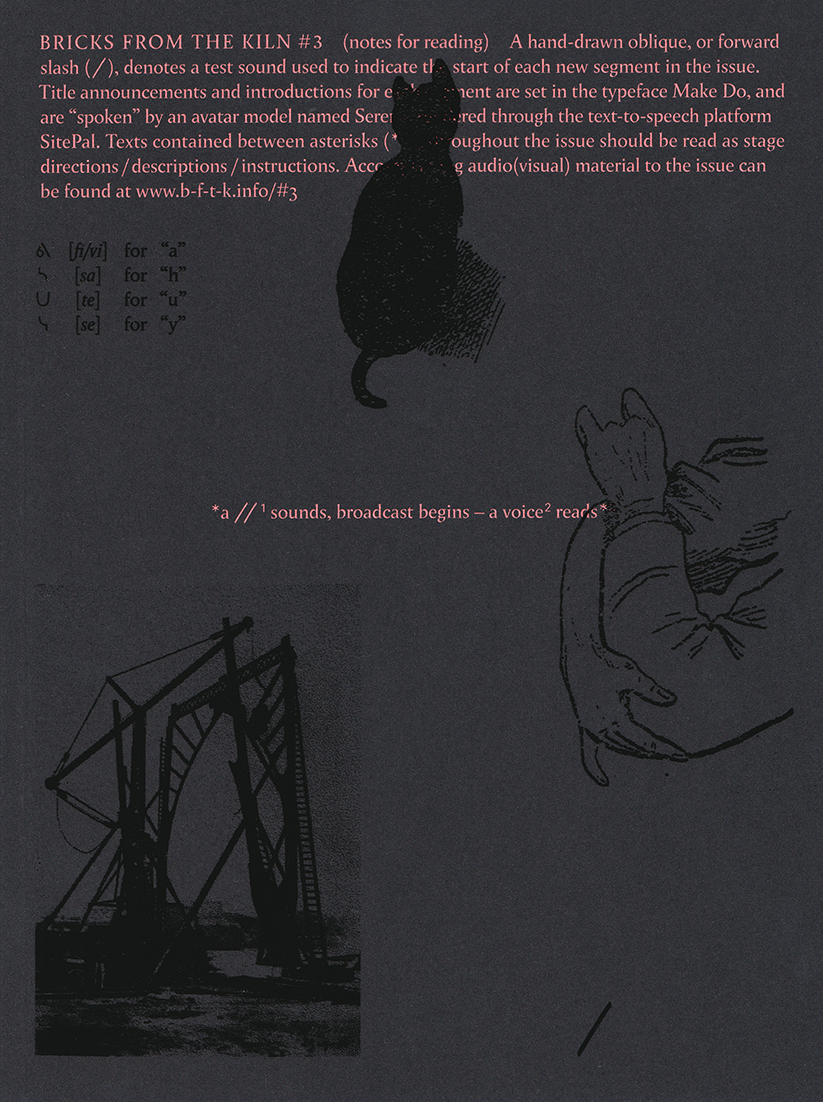 BRICKS FROM THE KILN #3
Edited by Andrew Lister & Matthew Stuart
170 × 224.764mm, 120pp. + pvc dust jacket + insert
Published as text, image and sound
Edition of 700, ISBN 978‐0‐9956835‐1‐8
TTC‐120, October 2018, London & New York
BFTK#3 (£12 + shipping)
BFTK#3 supporting audio here
Intro
OSKA (movement 3)
James Bulley (p.2)
One
A TYPOGRAPHIC CHRONICLE
OF STOPS AND STARTS
Bryony Quinn (pp.3–12)
Two
OKAY, I HAVE SOME QUESTIONS
THAT I'D LIKE TO ASK
Matthew Stuart talks with Nayia Yiakoumaki
(pp.13–28)
Three
HET LIEDEKEN
Astrid Seme (pp.29–32)
Four
SOFT ROCK FOR HARD TIMES
Mark Owens (pp.33–44)
Five
CRAFTMANSHIP and AFTER CRAFTMANSHIP
Virginia Woolf with Paul Bailey and
Sophie Demay (pp.45–60)
Six
DISAPPEARING INSIDE A
RED GRANITE-CLAD CORRELATE
Till Wittwer (pp.61–70)
Seven
CAMPANOLOGIA BOLOGNA
Emma Smith (pp.71–74 & insert)
Eight
BRUCE MCLEAN INTERVIEWS HIMSELF
Bruce McLean and Bruce McLean (pp.75–86)
Nine
AFTEREADING
Alexandru Balgiu (pp.87–90)
Ten
'A MIXTURE OF SEMANTICS, POETRY AND
MARKETING' APPROACHES TO THE TYPEFACE
DESIGN OF INUKTITUT SYLLABICS
David Bennewith (pp.91–114)
Eleven
TELL ME, WHAT IS?
Nontsikelelo Mutiti and Tinashe Mushkavanhu
(pp.115–118)
Outro
OSKA (movement 3 reprise)
James Bulley (p.119)
---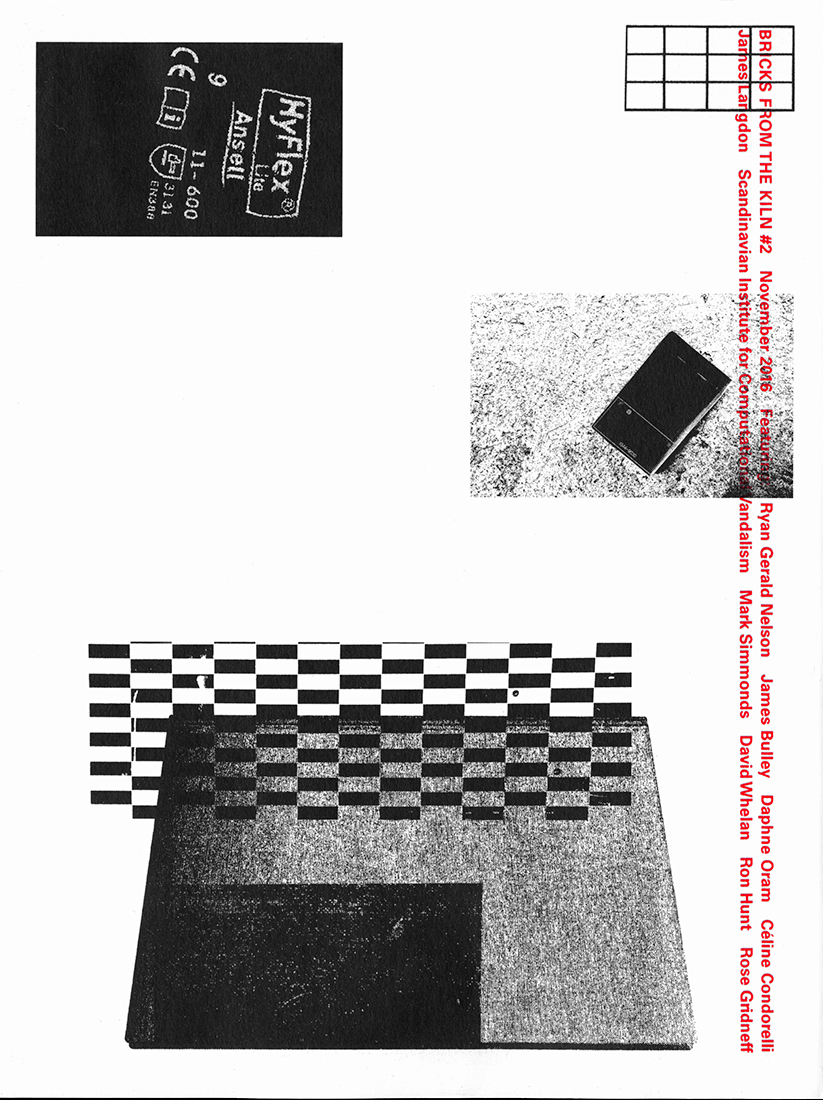 BRICKS FROM THE KILN #2
Edited by Andrew Lister & Matthew Stuart
170 × 224.764mm, 84pp. + pvc dust jacket + insert
Edition of 700 (675 bound / 25 unbound)
ISBN 978‐0‐9956835‐0‐1
TTC‐106, November 2016, London
BFTK#2 (£12 + shipping)
PERIPHERIES
Ryan Gerald Nelson (signature-wraps A & G)
THE LANGUAGE OF 'PERIPHERIES'
Ryan Gerald Nelson (pp.3–4)
James Bulley (pp.5–22)
PHOTOGRAPHS OF TRINIDAD AND TOBAGO (1964)
Daphne Oram (signature-wrap B)
IN THE BACKGROUND
Céline Condorelli & James Langdon (pp.27–34)
ALGORITHMIC ARABESQUE
Scandinavian Institute for Computational Vandalism (signature-wrap D)
VANDALIST ICONOPHILIA
Scandinavian Institute for Computational Vandalism
(pp.39–46)
MORE OR LESS
(Compiled by) Mark Simmonds (pp.51–58)
EXIGENCIES
Flights and Fissures / David Whelan (signature-wrap F)
NEURO-DEBTS
David Whelan (pp.63–65)
MALEVICH'S COFFIN AND THE MONUMENT QUESTION
Ron Hunt (pp.66–79)
AFTER NIJHOF & LEE
Rose Gridneff (pp.80–81)
---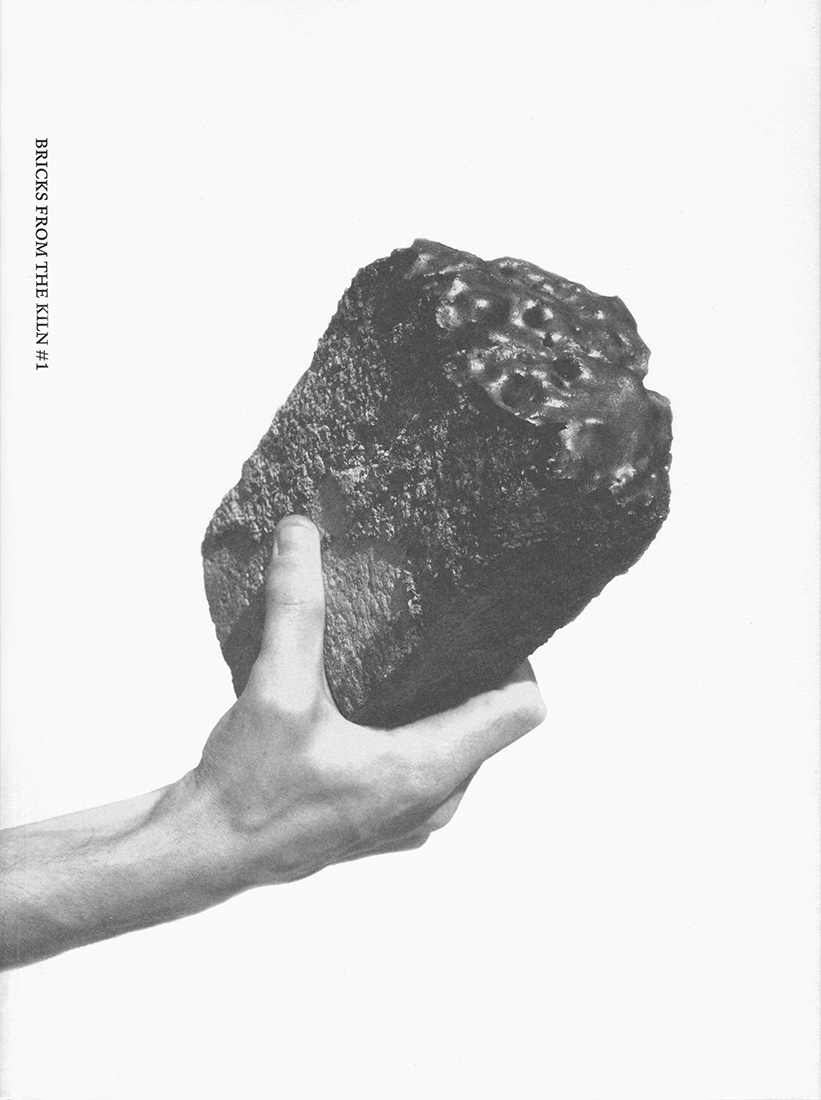 BRICKS FROM THE KILN #1
Edited by Andrew Lister & Matthew Stuart
170 × 224.764mm, 138pp. + 2 inserts
Edition of 700, ISSN 2397‐0227
TTC‐090, December 2015, London
BFTK#1 (£12 + shipping)
*SOLD OUT*
FRAGMENTS OF A CONVERSATION WITH RON HUNT
Andrew Lister, Matthew Stuart & Ron Hunt (pp.1–20)
RALPH RUMNEY: THE SHAPE OF HEADS TO COME
Natalie Ferris (pp.21–34)
THE LEANING TOWER OF VENICE
Ralph Rumney (pp.35–38)
OBSERVATIONS FROM A FIXED POSITION
James Langdon (pp.39–44 & insert #1) (read here)
VAPEGAZE
Mark Owens (pp.45–55)
WORDS FALLING FROM THE SKY LIKE BLOSSOM
Jamie Sutcliffe (pp.56–64)
WESTERING
Iain Sinclair (pp.65–88)
PICKING UP, TURNING OVER, PUTTING WITH
Traven T. Croves (pp.90–107)
"STAY HUNGRY. STAY FOOLISH", SAID THE ACADEMY AND FED US TO THE LIONS. OR: STARVING WITH A LOT OF LOVE IN YOUR STOMACH
Parallel School (pp.108–117)
MUSIQUES D'AUTREFOIS, ÉCHOS D'AUJOURD'HUI: A STUDY ROOM ON THE WORKS OF PIERRE FAUCHEUX
Catherine Guiral (pp.118–136)
GRAND COUPES
Max Harvey, He Pianpian & Li You (insert #2)
Andrew Lister & Matthew Stuart (inside cover folds)
---
EDITIONS
BFTK editions, prints, etc. available here (updated intermittently)
---
Distribution:
Antenne Books (Europe)
Independent stockists:
Actual Source, Provo
Ahorn Books, Berlin
Appendix, Columbus
Artbook MoMA PS1, New York
Camden Arts Centre, London
Do You Read Me?, Berlin
Draw Down Books, Connecticut
Espace Projet, Montreal
Good Press, Glasgow
Graham Foundation, Chicago
Family, Los Angeles
ICA Bookshop, London
Inga, Chicago
Kosmos, Zurich
Librarie Yvon Lambert, Paris
London Centre for Book Arts, London
Lugemik, Tallinn
MagCulture, London
Mast Books, New York
McNally Jackson, New York
Papercut, Stockholm
PrintRoom, Rotterdam
San Serriffe, Amsterdam
Studio Nock, Gothenburg
Tenderbooks, London
Topics, Berlin
Ulises, Philadelphia
XXXI (Thirty One), New York